By Ben Hubbard, WhichEV
According to the latest data from the Society of Motor Manufacturers and Traders (SMMT), more electric vehicles will be registered in 2021, than in the whole of the previous decade.
Between 2010 and 2019, a total of 271,962 BEVs and PHEVs were registered, while in 2021 alone the SMMT forecasts that closer to 300,000 of the latest plug-in vehicles will be sold.
The same forecast also predicts that BEV registrations will outsell diesel cars by the end of next year.
So far this year, plug-in vehicles account for 16.6% of all new car registrations and hybrid EVs account for 9.1% meaning that more than a quarter of all new cars sold are now electrified.
"Our latest outlook shows the UK experiencing a surge in plug-in vehicle uptake. Massive investment by industry as well as longstanding government incentives have seen us go from just 188 new plug-in cars in 2010, to almost 300,000 in 2021," says SMMT's chief executive Mike Hawes.
This increase in interest in electric vehicles comes against a backdrop where overall car registrations plummeted in October.
Overall, new car registrations last month fell by -24.6% to 106,265 units compared to October 2020, making this the worst October month since 1991.
Most of this decline was driven by large fleets as their demand fell by -40.4% whereas private decline was just -3.3%.
A detailed analysis is available over on WhichEV… https://www.whichev.net/2021/11/11/plug-in-vehicle-registrations-in-2021-on-track-to-exceed-whole-of-last-decade-despite-overall-market-decline/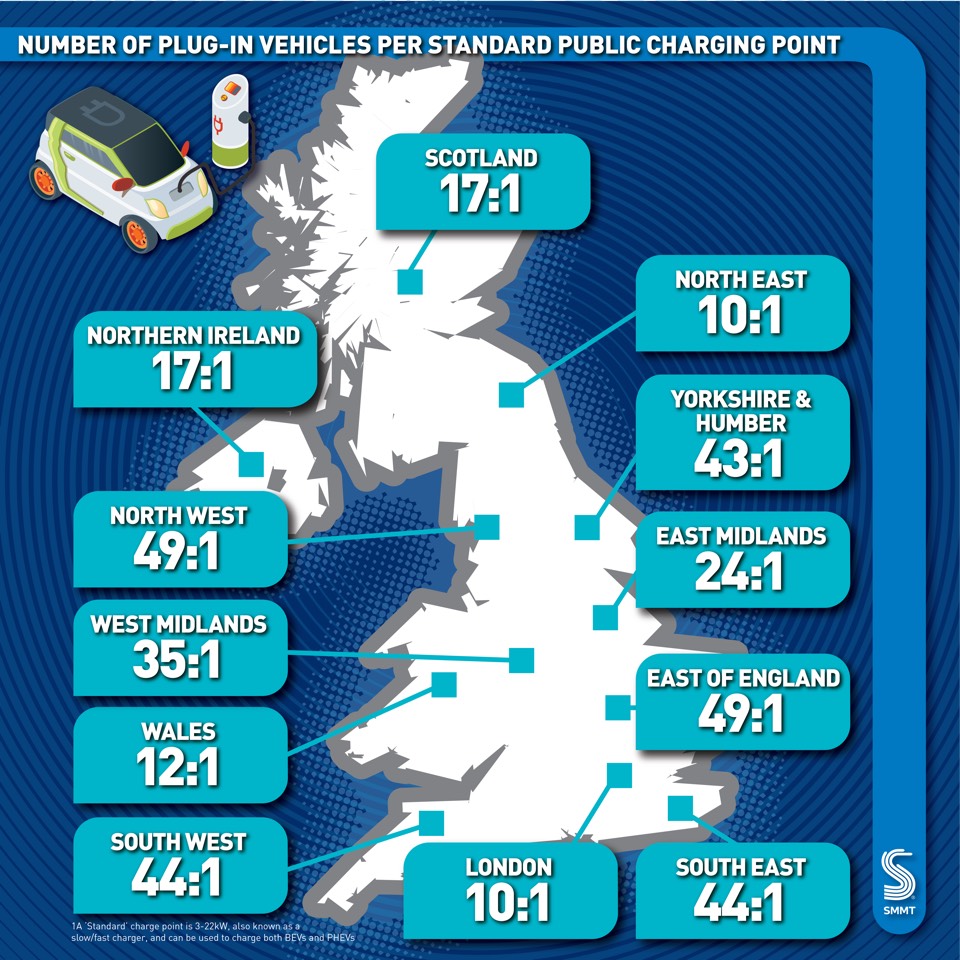 At the same time, a damning new report shows that for every 52 plug-in cars registered in 2021, just a single public charger was installed.
While the UK government has pledged £620m of zero-emission grants in its Net Zero strategy, and the Government's Rapid Charging Fund is investing £950m to expand the number of rapid and ultra-rapid charge points, this is insufficient to keep up with consumer demand.
Mike Hawes, SMMT chief executive, said: "Recent Government funding for infrastructure was welcome but more private sector investment in public charge points is needed across the country. The UK therefore needs a framework of regulation that makes it easier to fund, build and operate electric vehicle charging infrastructure. Consequently, we need commensurate and binding targets for charge point rollout and reliability so that all those without a driveway or designated parking can be confident of finding a convenient charger, and one that works."
At the end of 2019, 11 BEVs and PHEVs shared a public charging point on average, but by the end of 2020, that ratio had dropped to one charger for every 16 plug-ins.
While many people making the switch to an EV will be able to charge their car at home, on a driveway or designated parking bay, there are still those that rely on on-street parking, and so charging infrastructure has to cater for all needs if we are to achieve net-zero.
Britain's ratio of plug-in vehicles on the road to standard public charge points is now one of the worst among the top 10 global electric vehicle markets at 16:1 in 2020.
Some of the countries offering EV drivers better charging coverage, include South Korea (3:1), the Netherlands (5:1), China (9:1), France (10:1), Belgium and Japan (both 13:1).
There are also regional disparities in the number of charge points around the UK. London has the best ratio at 10:1 while the east of England has the worst at 49:1.